HOT
International students at NCCU
Quick guide: Academic Highlights │ Featured Programs │ Campus Life │ Student Testimonials │ Scholarships │ How to Apply │ FAQ
Taiwan's Top University for its focus on humanities,social sciences and business, NCCU is dedicated to fostering a mission of creative transformation in our globalized world with rapid technological development, while also encouraging collaboration between academia and industry to drive cutting-edge research and talent cultivation.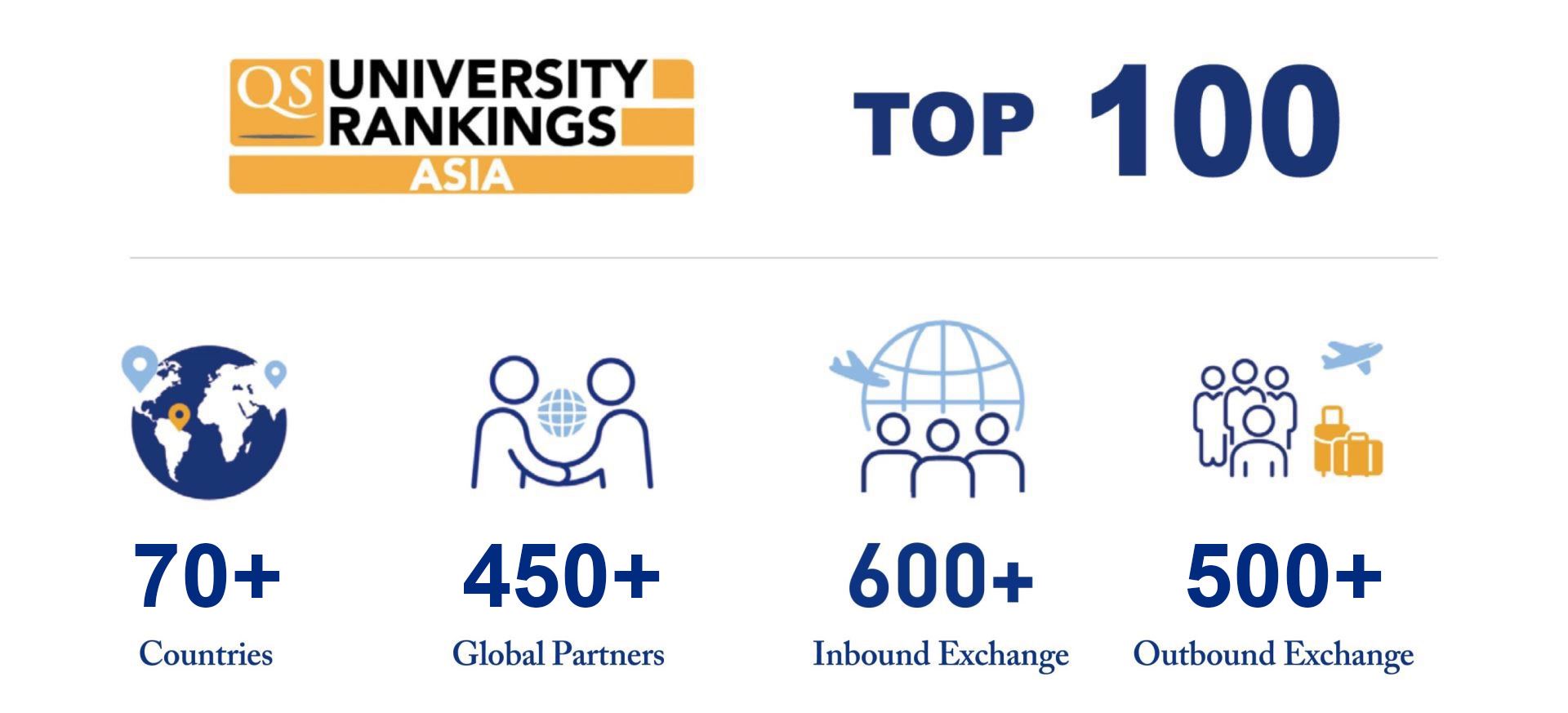 Home to 12 colleges including Liberal Arts, Law, Commerce, Science, Foreign Languages & Literature, Social Sciences, Communications, International Affairs, Education, Informatics, Global Banking and Finance, and International Innovation, NCCU has been ranked as one of the Top 100 QS Asia Universities for 6 consecutive years.
Partnering with 495 universities worldwide, welcoming 3000+ international students annually, and providing 880+ English-taught courses and quality Mandarin Chinese learning courses, NCCU provides a friendly multi-lingual study environment for students from many different cultures.

Application tutorial 〉 Admission brochure〉 About scholarships 〉
---

The NCCU College of Commerce is the only business school in Taiwan with 3 International Accreditations: PIM, EQUIS and AACSB and has crucial connections with the world's top corporations. Furthermore, according to the 2021 QS World University Rankings, NCCU is recognized as one of the world's top 70 universities in the field of Classics & Ancient History, and in the top 150 for Politics & International Studies, Modern Languages, and Communications & Media Studies.
---

Most NCCU degree programs are open to international students! Some are taught completely in English, while others are bilingual. The following are the most suitable programs for international students:
Learn more about the featured programs 〉

---
NCCU provides cozy dormitories and multi-functional modern libraries. For extra-curricular activities, students can join sports teams or student clubs to meet friends with common interests. Furthermore, only a short ride from campus is Taipei's most fashionable shopping area, the Xinyi Shopping District offering multiple shopping malls and movie theaters.
Dormitory │ Safe & Clean On-Campus Accommodations with Great Amenities
There are three main dormitory areas at NCCU. Two are on-campus, and the other is 5 minute's walk from the main gate. Dorm fees fall between USD300-USD1100 per semester. All dormitories are segregated by gender, and access is restricted to ensure resident safety.
For further information about the dormitory at NCCU, check out this video 〉

Modern Libraries │ Offering a Wide Range of Printed and Online Study Resources
NCCU students have easy access to over 1,880,000 printed publications and numerous multimedia and online resources through multiple NCCU libraries. These multi-functional facilities offer space for group discussion, research, lectures, co-working, or VR experiences. The 24/7 study room at the Main Library is one of the most popular spots for hard-working students.

Sports Teams │ Experiencing the Passion for Sports
Students at NCCU are enthusiastic athletes, fielding teams in basketball, football, rugby, volleyball, badminton, and many other sports. In 2023, the NCCU Griffins has been the triumphant winners of Taiwan's University Basketball Association (UBA) for three consecutive years, and clinched the championship title at the World University Basketball Series (WUBS).

---
---
NCCU provides different scholarships to cover students' financial needs so that they can focus on their academic pursuits and university life. Students may apply for governmental scholarships and NCCU scholarships.
---
Click here for the NCCU Online Application, and review this application tutorial video.
---
We know studying abroad is a big decision. While you are thinking about it, you can follow us first and receive first-hand information at any time!
---
What are the application requirements?

See

Eligibility

to check the academic requirements and the relevant regulations.

When is the application period?

For applicants who wish to begin their studies in September 2023, there are two application deadlines:

The first round of online application (early application): Sep 25, 2023-Oct 18, 2023, 5:00 pm (Taiwan time)
The second round (regular application) begins in early February 2024.

Whom can I contact with specific questions related to international admissions?

Contacts for admission enquiries:
Ms. Lily Hsu (for undergraduate applications):

intladm@nccu.edu.tw


Ms. Sasha Ling (for graduate applications):

nccugrad@nccu.edu.tw

Office of International Cooperation, NCCU
E-mail:

oic@nccu.edu.tw

│ TEL: 886-2-29393091 #62040 (office hours: 9:00-12:00, 13:30-17:00, Taiwan Time) │ FAX: 886-2-29399850

Where can I get more information about the dormitories?

See

Housing

for further information about the dormitory options.

If I don't know Chinese, can I apply?

International students enrolled in regular programs are required to have adequate Chinese language proficiency. However, there are also plenty of English-taught degree programs at NCCU. See

General Enquiry

for further information about the programs.